Publications
California State and Regional Economic & Demographic Snapshot
Our State, Our Regions.
Economic & Demographic Snapshot
California is composed of distinct regions with different economies and populations.  Each region is trying to create jobs that match the skills of its population.  In addition to recovery from the recession, each region is facing longer term structural issues arising from a growing mismatch between job demand and labor supply.
To shed light on what is happening in California's regions, Next 10 produced 13 regional Economic & Demographic Snapshots, as well as a Snapshot for the State of California.  These Snapshots summarize key regional demographic and economic trends, including population demographics, education attainment, household income, employment change by industry, unemployment levels, and job gains and losses.
The Economic & Demographic Snapshots were originally developed for the first California Economic Summit, which was hosted by the California Stewardship Network, including Doug Henton and Julie Meier Wright, and California Forward.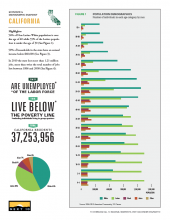 Downloads
Full Report